In this update we have several changes to bring to you.
Group Appointments
Group appointments allow you to setup things like classes where several patients are linked to one appointment. These will be made fully available this weekend.
You can start adding your Group Appointments types if you wish. Details are available in these videos:
Setting up group appointments
Working with group appointments
Note that with this change, deleting of appointments will change. Instead of clicking the cross on the appointment, choose the "Delete this" option in the right click menu.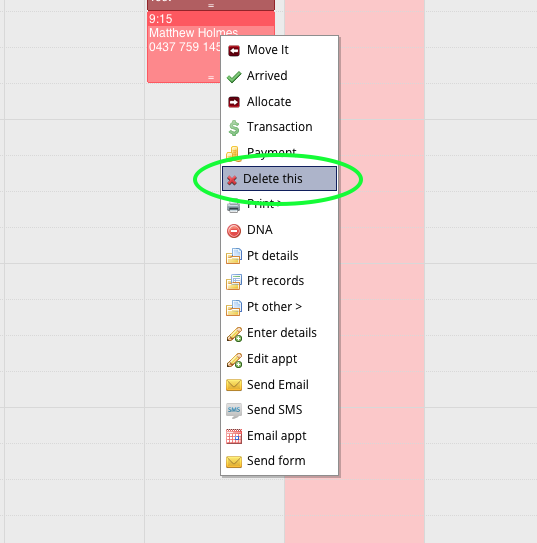 Online Booking
Online Booking has been updated to allow multiple bookings per diary slot. On the Settings->Diary Admin->Online Bookings section adjust the "Number of bookings per slot:" value. This is the maximum number that the system will allow in each slot. If there is a new patient appointment or group appointment it will only allow one patient per slot.
The Online Booking also now allows for Group Appointment types. To make these available for each practitioner, select them on the Online Bookings Settings page.  The system only displays these on your actual online booking link if there are appointments available in the future.
Lastly, if you have multiple practices setup in your iconpractice instance, there is now a page that allows visitors to select a practice.  To access this remove the trailing number from your online booking link. For example by removing the /1 from this online booking link https://www.iconpractice.com/ob/4660/ebc/7183/1 you will show the select a practice page, e.g. https://www.iconpractice.com/ob/4660/ebc/7183
Book Next
Lastly this weekend we'll add "Book next" buttons to the patient's Details screen and the Transaction lightbox in the diary. Clicking those will display this notice:

When you then click in a diary slot the patient's details will be pre-filled. Click the X or the "Cancel" text in the notice to cancel this and return to normal booking.
Other updates:
The patient's name is now clickable on SMS replies to allow you to quickly do to their Details screen.
On the SMS and Email reminders screen the message length is now displayed.