After lots of development time we're getting close to releasing the Medipass (HICAPs Go app) and HealthPoint/Tyro integrations. It will be great to have these in place and we're looking forward to freeing up some time to complete some of the other features you've been requesting.
As you'd expect there will be some changes with iconpractice.  We're going to do a phased implementation. This will give you time to make any changes before things go fully live.  The main change now will be around how provider numbers are handled.
New Provider Number System
The present provider number system has a single textfield for storing provider numbers and notes. In the new system, provider numbers will be stored individually allowing claims to be sent using different provider numbers if the practitioner has several modalities they offer (e.g. chiropractic or osteopathy) or if they have different number for different locations.
This weekend (9th September 2018) we will be switching over to the new system. In this you will click the Edit/Add link for that practitioner.
Then add each provider number in turn.  The Description field will show on invoices and statements and should be descriptive. So if your practitioners have different numbers for different locations, perhaps put the place name in the description.  If they have different modalities, perhaps put that in the description etc.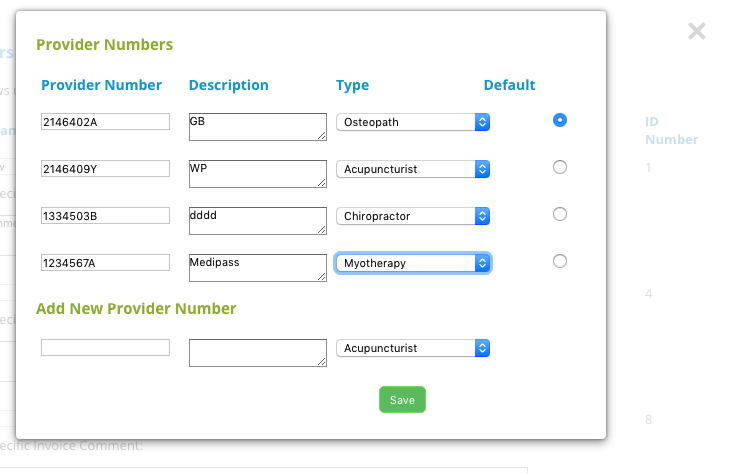 Once these are saved, no further adjustments should be needed for now.
Other Preparations
If you plan to use the HICAPs Go/Medipass app, you will need to register for their portal. We're not sure how long the process takes so it would be worth starting now.  The link to do that is here.
We'll post details about getting started with Tyro/HealthPoint soon if you want to use that service.
As always, if you have any issues, please get in touch with us at Support.