We're delighted to announce to adding of the waiting list function to the diary.  This enables you to keep a handy list of people who want appointments without needing to switch between the To Do and Diary pages.
You'll see "Waiting List" toward the top right of the Diary screen, next to "Today".  If you click on that, the waiting list will be shown.  Click outside the waiting list to hide it.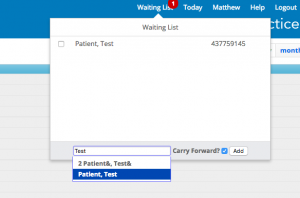 To add someone to the list just search for a patient using the box at the bottom of the waiting list.  Click on the name of the person you want to add.  If the person only wants an appointment for today, leave the "Carry Forward?" box unticked.  If you want this person to remain on the list until you either remove them or they make an appointment, tick the "Carry Forward" box.  Click Add to add the to the list.
If you decide to remove someone from the, tick the box next to their name. To add a person on the list to the diary, simply drag their name onto the time slot on the diary you want.  Release the mouse and the person will be added at that time and removed from the list.  If the person has a default appointment type set, the system will make the appointment that type.  If none is set for the patient, the system will use the default appointment type set in your calendar settings.  To change the appointment type after making it, use the Edit Appt option on the right click menu.
To change your overall default appointment type, simply go the the Settings->Diary Settings->Diary Admin section, choose another appointment type from the list then click Save.
We hope you like this new function and hope to have some more soon!